Regular price
$50.00 USD
Sale price
$24.99 USD
Unit price
per
SALE
Sold out
Today Only: Get an extra 10% off your order if you checkout TODAY with code GET10

Risk-Free 30 Day Money-Back Guarantee!

Free Tracked Shipping Today Only!
TODAY'S SALE - GET
50% OFF + FREE SHIPPING

 

ONLY TODAY FOR THE FIRST

6

BUYERS!
End Neck Pain for Good: Meet Your U-Neck™ Travel Companion!
Introducing the U-Neck™ - Multi-Functional Travel Neck Pillow - your new travel buddy! Tired of those uncomfortable journeys? Wondering if there's a solution to neck pains, crinks, and aches during travel? Well, guess what? We've got the answer right here!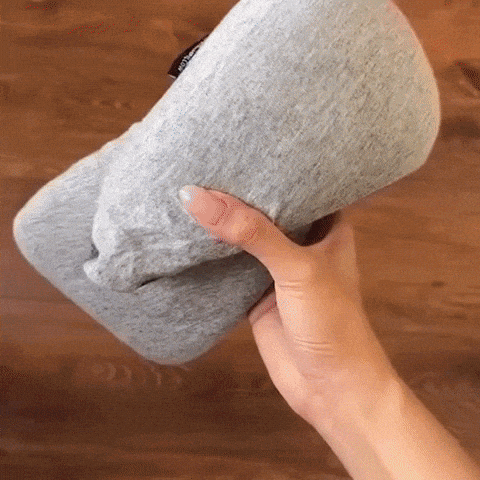 Sleep Like a Baby on Your Next Trip - Thanks to U-Neck™!
Say goodbye to uncomfortable journeys forever with our U-Neck™ Pillow. Ever wished you could sleep like a baby on a plane or train? This patented design is your neck's best friend, keeping you upright and pain-free. No more asking, "Why does my neck hurt?" - because with U-Neck™, it won't!
Experience Dreamy Comfort with U-Neck™ Memory Foam
Crafted from the highest quality memory foam, our Travel Neck Pillow cradles your neck and head, delivering a level of comfort that's like a dream come true. It's like having a fluffy cloud embrace you throughout your journey, without needing a cloud-sized carry-on.
Compact and Pocket-Sized: U-Neck™ - Your Travel Must-Have!
But wait, there's more! U-Neck™ is super compact and easy to transport. You can roll it up and tuck it away in its carry bag. It's so compact that it's practically pocket-sized – smaller than your phone, and way more comfortable!
Experience the Revolution of Comfortable Traveling Now!
Long-distance trips or daily commutes will be easier and more enjoyable when you have this amazing pillow. Don't miss out! Click now to get your neck the comfort and convenience it deserves!
OUR GUARANTEE:
Not Satisfied? We refund your money!
We've seen countless satisfied customers with our products, and to ensure your satisfaction, we offer a 100% Money-Back Guarantee within 30 days of delivery.

TODAY'S SALE - GET

 

50% OFF + FREE SHIPPING
 

ONLY TODAY FOR THE FIRST

 

6

 

BUYERS!

Act quickly and purchase one of the last units before inventory runs out! The price will rise again - take advantage of the current offer while you still can. 
Free Shipping

We take 2-4 days to process your order.

Shipping Times are as follows:

United States: 5-12 Business Days

Canada: 8-15 Business Days

United Kingdom: 8-15 Business Days

Australia: 8-15 Business Days.



We will send you tracking information as soon as your order is shipped. Note that your tracking results may take up to 48 hours to update.

Our products are shipped separately based on your order. If, for example, it contains items from two different warehouses, then there will be two deliveries. The rest of the order will arrive shortly.

Questions regarding our shipping policy should be sent to us at contact@upbodee.com
30-Day Money Back Guarantee

We accept returns on all products purchased through our website including on sale items. 

 If you decide that the purchase isn't quite for you, you have 30 days from the date of delivery to ask to return your item(s).

To be eligible for a return, your item(s) must be in its original packaging. You'll also need the receipt or proof of purchase.

You must pay for the label to return the item. Upbodee is not responsible for paying return shipping.

For our complete Return Policy, check at the bottom of any page on our website.
View full details