Regular price
Sale price
$34.99 USD
Unit price
per
SALE
Sold out
Today Only: Get an extra 10% off your order if you checkout TODAY with code GET10

Risk-Free 30 Day Money-Back Guarantee!

Free Tracked Shipping Today Only!
Overview:
1. It integrates the three functions of negative pressure cupping, scraping and massage. Through intelligent detection of the pressure in the tank, the vacuum negative pressure can be adjusted in real time to realize dynamic breathing cupping.
2. Effectively promote blood circulation, dredge the meridians, stimulate acupoints, relieve fatigue, relieve pain, dispel cold and dehumidification, improve immunity, and relax muscles.
3. Two modes (deep negative pressure mode / soothing breathing mode) are available, scraping, cupping or massage, free to choose without restriction. ((The deep negative pressure mode is turned on when the machine is turned on))
4.6/9 levels of negative pressure, strong and stable suction, no open flame; 6/9 levels of red light heating, deep massage, relax the body, and dispel fatigue.
5.20-minute timer function: automatically start a 20-minute countdown when it is turned on to avoid unnecessary damage to the body caused by excessive scraping and cupping.
6. LED/LCD display screen, four independent buttons can separatelyswitch the machine, adjust the suction intensity and heating gear, and suspend the cupping adsorption function, which is easy to use.

Specification:
Product Name: Smart Breathing Massager
Mode of operation:Physical massage
Suction strength: a total of 12 gears
Hot compress intensity: A total of 12 levels
Input voltage: 3.7v
Rated power: 5w
Power supply mode: USB
Control method: Computer
Model: Pressure relief type Gu Sha instrument
Temperature adjustment: Yes
Temperature control range: 45-60
Gear position: Continuously variable
Colour: Six-speed plug-in heating model (red), six-speed plug-in heating model (black), six-speed plug-in heating model (blue), 6-speed charging and heating model (red), 6-speed charging and heating model (black), 6 Charging and heating models (blue), 12-speed charging, heating and decompression models (red), 12-speed charging, heating and decompression models (black), 12-speed charging, heating and decompression models (blue)
Material: Abs
Battery capacity: 1800 mAh
Size information:
94*94*78mm

Package Content :
Gua Sha instrument*1 
manual*1 
usb*1


Product picture: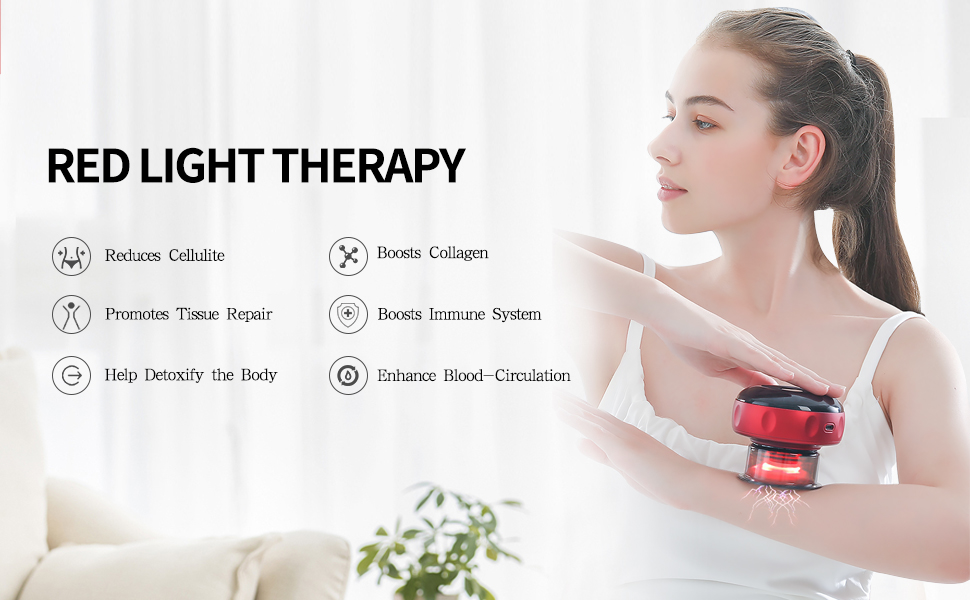 Free Shipping

We take 2-4 days to process your order.

Shipping Times are as follows:

United States: 5-12 Business Days

Canada: 8-15 Business Days

United Kingdom: 8-15 Business Days

Australia: 8-15 Business Days.



We will send you tracking information as soon as your order is shipped. Note that your tracking results may take up to 48 hours to update.

Our products are shipped separately based on your order. If, for example, it contains items from two different warehouses, then there will be two deliveries. The rest of the order will arrive shortly.

Questions regarding our shipping policy should be sent to us at contact@upbodee.com
30-Day Money Back Guarantee

We accept returns on all products purchased through our website including on sale items. 

 If you decide that the purchase isn't quite for you, you have 30 days from the date of delivery to ask to return your item(s).

To be eligible for a return, your item(s) must be in its original packaging. You'll also need the receipt or proof of purchase.

You must pay for the label to return the item. Upbodee is not responsible for paying return shipping.

For our complete Return Policy, check at the bottom of any page on our website.
View full details