Regular price
$60.00 USD
Sale price
$29.99 USD
Unit price
per
SALE
Sold out
Today Only: Get an extra 10% off your order if you checkout TODAY with code GET10

Risk-Free 30 Day Money-Back Guarantee!

Free Tracked Shipping Today Only!
Introducing the "GIAVOS

™

" - Quenching Thirst, Sparking Smiles!
Hey there, super parents!
Are you on the hunt for the perfect water bottle that'll keep your kiddos hydrated and happy?
Look no further than
GIAVOS™
– the ultimate companion for your little explorers.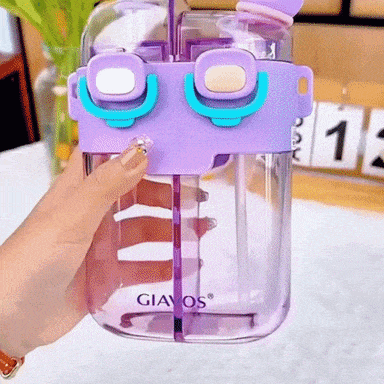 Built Tough: Hydration Without the Worry!
Cheers to Safety and Durability: GIAVOS™ 
is not just any water bottle – it's a worry-free sipper!
Made from food-grade silicone, PC, and PP materials, it's like having a bodyguard for your child's hydration journey.
No more spills, no more worries – just pure fun!
 Mess-Free Adventures: More Play, Less Cleanup!
We get it – kids can be a whirlwind of energy.
But cleaning up after them?
Not so fun. With
GIAVOS™
's large diameter cupped design, cleaning up is a breeze.
Spilled juice, splashed water – it's all in a day's play for
GIAVOS™
!
Mix & Sip: Fun Hydration, Zero Flavor Mix-ups!
You know how kids are – they want a little of everything!
With two separate rooms,

GIAVOS™

lets your tiny tots carry their favorite drinks without any flavor mix-ups.
Apple juice in one room and water in the other?
Mission accomplished, superhero parent!
Sippy Magic: Straw Lid & Shoulder Strap Adventures!
With Straw Lid and Shoulder Strap:

GIAVOS™

isn't just a bottle; it's a magic potion holder!
The cute straw lid keeps germs at bay, ensuring only happiness goes into their tummy.
Plus, the detachable shoulder strap turns hydration into an adventure they can carry along.
More Than a Bottle: Crafting Memories and Friendship!
From school picnics to playground escapades, it's the trusty sidekick they'll cherish.
And guess what? It's not just a bottle; it's a heartwarming gift idea too!
Give the gift of hydration and style to your child's friends and make their day extra special.
Ready to put a splash of joy into your child's day?
Grab GIAVOS™ today and let the sips, giggles, and adventures begin!
OUR GUARANTEE:
Not Satisfied? We refund your money!
We've seen countless satisfied customers with our products, and to ensure your satisfaction, we offer a 100% Money-Back Guarantee within 30 days of delivery.


TODAY'S SALE - GET AN
 EXTRA 10% OFF

 

+ FREE SHIPPING WITH CODE

 

GET10

 

ONLY TODAY!

Act quickly and purchase one of the last units before inventory runs out! The price will rise again - take advantage of the current offer while you still can. 
Free Shipping

We take 2-4 days to process your order.

Shipping Times are as follows:

United States: 5-12 Business Days

Canada: 8-15 Business Days

United Kingdom: 8-15 Business Days

Australia: 8-15 Business Days.



We will send you tracking information as soon as your order is shipped. Note that your tracking results may take up to 48 hours to update.

Our products are shipped separately based on your order. If, for example, it contains items from two different warehouses, then there will be two deliveries. The rest of the order will arrive shortly.

Questions regarding our shipping policy should be sent to us at contact@upbodee.com
30-Day Money Back Guarantee

We accept returns on all products purchased through our website including on sale items. 

 If you decide that the purchase isn't quite for you, you have 30 days from the date of delivery to ask to return your item(s).

To be eligible for a return, your item(s) must be in its original packaging. You'll also need the receipt or proof of purchase.

You must pay for the label to return the item. Upbodee is not responsible for paying return shipping.

For our complete Return Policy, check at the bottom of any page on our website.
View full details